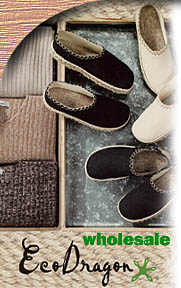 At EcoDragon, we make earth-friendly sweaters and shoes that offer pure comfort and unique style. Our products are handcrafted from hemp, the perfect eco-friendly fiber. Hemp can be grown sustainably without toxic herbicides and pesticides, and returns 70% of its nutrients to the soil. Hemp is versatile: it can be used for fiber, food, paper and cloth. For today's casual and conscious lifestyle, EcoDragon invites you to crate change for a healthier planet. Choose hemp!
Product Line - New Products - General Info (care, fit, sizing, pre-packs) - POP Program and Displays
• For a pdf version of our whole catalog, click here.
You will need Adobe¨ Acrobat¨ Reader¨. If you are missing it, click here to download for free.